Bisque Imports / Bisque Imports Green Initiatives
Bisque Imports Green Initiatives
Bisque Imports is determined to be a green friendly organization; keep reading to learn all about our efforts and determination in being as green as we can be!
Being green requires a change in mindset. So, becoming an eco-friendly business has been a learning process for us, and we are continuing to learn about new initiatives and routes to take. We can all agree that when we see plastic, styrofoam, fabrics, and anything that doesn't belong on our precious land and bodies of water, it reminds us how our actions affect our earth.
Bisque Imports understands the importance of protecting our environment for future generations. We are committed to continually work towards achieving an even greener business model than we have now. We're thinking more of neon green!
Bisque Imports is dedicated to preserving the environment and endeavors to prolong our natural resources through conscientious efforts of conservation, recycling, waste reduction and exploration to better support our community and the world. Earth: BI loves you!
Facility
In a time where so many buildings are being destroyed to usher in more room for modern replacements, we've opted to make our warehouses and offices from the existing historic buildings in North Carolina, Texas, and Utah. Bisque Imports' Belmont home base has been relocated three times for larger space, with our last historic mill move being in 2013!
We practice constant upkeep enhancements to each vast facility to help conserve as much energy as possible. Working with the existing shells of buildings allows us to preserve the historic culture of our locations, while also eliminating the time, energy, and money required to remove the existing structure and rebuild.
While operating in a century-old building has its charms, unique challenges also unravel into the mix. You know, those pesky little things like pipes and wires, make it tricky. They are the main culprit! Luckily we have the smart minds to help us stay eco-friendly in a warehouse where green morals were not as valued decades ago.
We rewired our facility's lighting to reduce unnecessary electricity usage through unused transformers and wire feeds.
We recycled all of the unused copper in our building and are in the process of recycling the steel and aluminum from unused ductwork throughout our warehouses.
We recently installed motion-sensitive lighting in areas of our warehouses that are not actively used. This allows for huge energy savings and conservation of electrical power. In fact, in the three months after completing this project in our former building, we reduced our energy consumption by 30%! At that rate, the new green lighting paid for itself in 3.5 years.
Recycled / Recyclable Packing Materials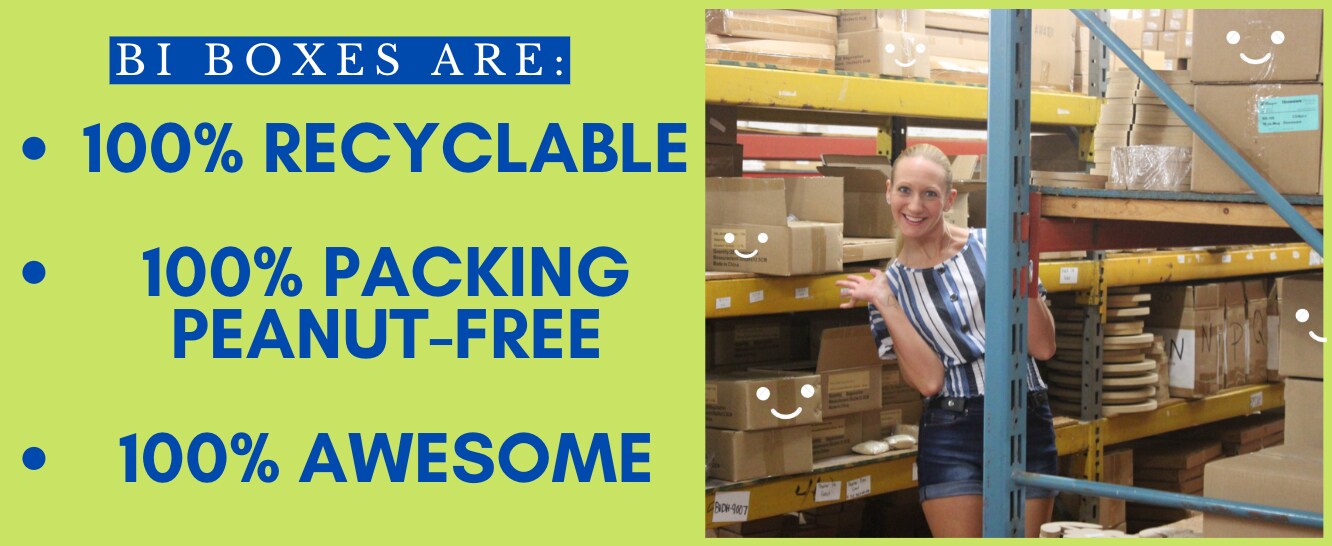 We purchase already recycled materials from our partnering businesses to start our shipment timeline on the right foot. This helps us limit waste from the get-go and clean out our business operations and support those who are eco-friendly as well.
We use recycled/recyclable packing paper and boxes for products inside and outside US borders. This paper cushioning system is made of 100% recyclable, biodegradable material. Also, we've worked hard to eliminate packing peanuts from our shipments. Nobody likes those kinds of peanuts! But have you tried DJ's famous hard-boiled peanuts? Those are the peanuts worth saving.
We recommend that our customers continue the recycle pattern and use the recycled cardboard and packaging paper that is included in their shipments. Whether that be at home, to wrap studio-goers pieces, or just somewhere around the studio, this packaging is multi-use and should not be tossed in the dump. Who knows? Next year the trendy Christmas Wrapping paper color could be solid brown. Don't fret, we've got you covered.
Does your studio make finished pottery shipments locally or nationwide? Use our cardboard as a packing material for your shipments. Or you can implement it into your creative toolbox to make cute cut-out shapes to stamp on canvases, pottery, or artboards; recycling comes in many forms.
You can also work trades with your local shipping stores like UPS or FedEx. Talk to their customer service team about using your packing materials in exchange for better shipping rates or even painting in your studio. You can take that relationship a step further by letting customers know what you are doing. That is smart, effective marketing for you and your shipping partner. We get excited about any opportunity to repurpose materials and enjoy knowing that we are continually conserving our resources. And we know you do too!
Office
Here's a list of little to large green practices we carry out around the office. You could try some of these ideas in your business!
Implement a recycling program for paper, plastic, and glass.
Reuse paper by printing reports on the back or use it as scrap paper.
Reuse our cardboard boxes by shredding them with a unique machine which allows us to use the remains as packing material.
Encourage our customers to reduce paper use by submitting online orders instead of faxes.
Email invoices - the greenest paper is no paper at all.
Print fewer catalogs and price sheets.
Print catalogs, flyers, postcards, and invoices on recycled paper.
Keep files of training manuals, marketing materials, flyers, company files, online as PDFs.
Re-design our website and enhance functionality to provide for a more user-friendly experience.
Use your website for industry and company updates.
Use web-based programs for advertising promotions and events.
Send holiday e-cards instead of printing cards (saves on postage, too)!
Use ceramic mugs or glassware for beverages instead of disposable cups; when paper products are used, recyclable options are chosen.
New water filtering system for drinking water instead of bringing in a water cooler and large water bottles. Saves on fuel/emissions from the truck delivering to us each week.
Use Duncan's environmentally-friendly Pure Brilliance!
Turn off all lights in the building when we leave.
We are refurbishing our 100-year-old building to make it more energy-efficient!

Manufacturing: The employees in our manufacturing facility are paid higher wages than most that work in production facilities due to the complex nature of the products we design and the high-quality standards that we require.
All materials used in manufacturing, such as molds used to create greenware, are recycled and made into new molds. Since our clay is made from natural materials, any imperfect bisque is recycled by re-submitting it to the earth and allowing it to decompose naturally.
How Can You Be More Green? Studio & Home Edition
A large part of recycling and being consciously green is education. A huge misconception about recycling is that all plastic and paper under any circumstances can be recycled. Did you know that for recyclable items to be recycled and given a new life they must be cleaned and dried before entering the recycle bin? Yes, that's the rules, and we must play by em'!
Check out the Waste Management website to learn more about the specific ins and outs of recycling.
Energy Consumption: Save energy in your home or office by shutting down computers instead of leaving them on standby each night. Computers on standby status continue to draw power.
Reduce Waste: Re-use (packing paper for customer pieces) or recycle your boxes and packing paper. Recycle beverage bottles and cans used or purchased in your business.
Boost Productivity: Initiate a healthy employee program. Consider allowing time for exercise during work hours (a certain amount of hours each week). Healthy employees are happy and produce better quality and accurate work.
Protect the Environment: Use environmentally friendly cleaning products such as biodegradable soaps along with recycled paper or cloth towels throughout the studio. Use sustainable office supplies.
Preserve our Resources: Conserve water by turning it off between uses instead of letting it run as you perform other tasks.
Purchase Fair Trade coffee for the break room.
Provide easy access to recycling bins so that recycling is just as easy as throwing paper away.
Pens and pencils can also be made of recycled materials, and refillable pens and markers are preferable to disposable ones.
Buy in bulk so that shipping and packaging waste are reduced, and reuse the shipping boxes. Recycling printer cartridges is often free, and recycled replacements are cheaper than new ones.
Purchasing recycled materials is not the most inexpensive route, but rather an investment in our community and the world. Recycling reduces waste and saves money in the long run. Greening your company's building can save money, boost productivity, earn respect for your company, and have a huge environmental impact since buildings account for roughly 30% of total CO2 emissions.
Start a recycling program in your studio. If you sell cans or bottled drinks, be sure that you have a recycling area for your customers. If you do not have recycling pick up in your area, encourage your customers to recycle on their own by providing a list of local recycling stations.
Eliminate or cut the use of paper towels in your studio. Have a good supply of cloth towels for hand drying, brush drying, and table cleaning. Wash the towels in cold water to conserve the energy it takes to heat water and consider energy-efficient appliances when the time comes for such a purchase.
Customer Feedback
"I'm so happy to see that you're not using the Styrofoam popcorn anymore to pack your products. My shipment arrived in perfect condition and I don't feel guilty throwing out the paper packing materials. Keep up the good work. Your new catalog looks great, too." - Elise Leasure
"Thank you, thank you, thank you for not using Styrofoam in your shipping anymore!!" - Hannah Crowley, Van Grow Studio, Fort Worth, TX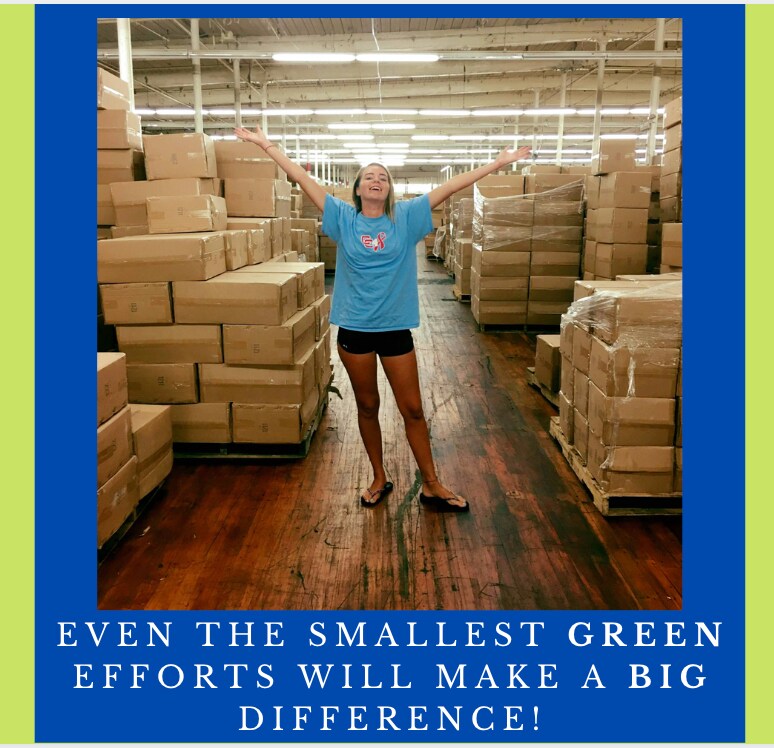 Think about how you can make an impact, small or big, in your community. Anything we can do to help conserve our natural resources and reduce waste will benefit us all. We understand we are not neon green quite yet, but we're striving to become a more eco-friendly business every day.
Please feel free to send any comments and suggestions to [email protected]. We appreciate it!